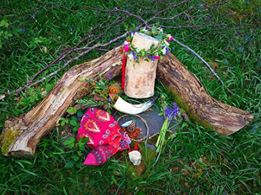 I was one of the facilitators at this recent retreat, celebrating the Celtic festival of Beltane at Cae Mabon, the stunning eco-retreat venue in North Wales.  I've been visiting the centre since 1999; the place, the people, the memories, stories, songs, the teachers I've worked with there, the living breathing land, all of this has helped create the me I am today and do what I call 'rewire the indigenous soul'… in other words, it's one of my most favourite places in the world!
I also love the alchemy of groups; the perfect combination of people are always there <3 … and this Beltane retreat group was no exception.  Co-creating and working with Eric Madden and Angharad Wynne from Cae Mabon was effortless and together we put great ingredients into our metaphorical 'retreat cauldron'!
It was an honour to run my part of the retreat which supported the group to drop deeper into connection on the first day of the retreat by facilitating some beautiful simple tantric exercises that brought us into our bodies and out from our heads.   When trust is established we can soften and be truer, braver, more vulnerable and authentic versions of ourselves.  We did that, and the rest of the weekend that followed had mythic magic proportions.  Humans in our highest can create such beauty.
But enough of my words, here's a wee blog that Angharad wrote about the event.  I highly recommend the amazing work that happens here.  Take a look at their website and scour their calendar for upcoming events…