Tantric Fool – 1st-3rd April – Cornwall 
1st April 2020 @ 18:00

-

3rd April 2020 @ 18:00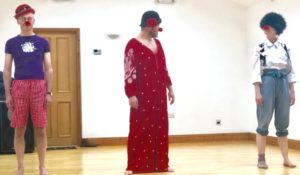 Although my Fool has been present in my life for a very long time I wasn't very conscious of her.  She finally 'formally' (as much as any clown can be formal!) burst out of me back in summer 2017 when I did a week long clown course in Spain at The Actors Space and since then has been studying and playing many new tricks.
Together with fellow tantrika Kate Spenceley we've developed a workshop that marries tantra and the fool.  Kate come from a performance background and has had a well trained Fool for a very long time!!   Here's a blog that Kate wrote about our experiences of exploring our personal clowns.
If you want to liberate your authentic-self and say a wholehearted ' yes' to life you must first be prepared to fail.  Join us as we learn to fail with style using a mix of clowning and tantric techniques.  Over these few days, (including April Fool's Day of course!), we will set aside our inner tyrant and with pleasure curiosity and imagination welcome our spontaneous and playful selves.'
Our venue is the stunning Rosemerryn Wood  in Cornwall,  located very close to the sea and sits within the wild, exciting and magical Cornish landscape.
Your investment for this workshop is £450. This covers accommodation on the Wednesday and Thursday evening, a plentiful supply of wonderful food and all your tuition.    There is a possibility of spending an extra evening at Rosemerryn on the Friday for a cost of £30 per person (breakfast not included)
If you have any questions or require further details regarding this workshop, please email us: enquiries@shaktitantra.co.uk and if your inner Fool is a bit more spontaneous then that then just click here and book on!